About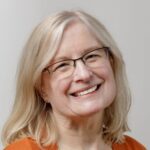 "Minding Our Elders' mission is to ease caregivers' isolation by providing support and resources."
 Carol Bradley Bursack, Minding Our Elders
Biography
Author, columnist, blogger, and consultant Carol Bradley Bursack spent over two decades caring for a neighbor and six elderly family members. As a result of this experience, she wrote "Minding Our Elders: Caregivers Share Their Personal Stories," a portable support group for caregivers.
Carol's websites, Minding Our Elders and Minding Our Elders blog, include links to helpful agencies, articles rich with information and comfort, and resources for caregiver, boomer, and elder needs.
Her long-running newspaper column, also called "Minding Our Elders," is available weekly in multiple newspapers online and in print. She is the spokesperson and writer for Egosancares.com, is "Ask Carol" on the Egosancares site, moderates their incontinence support group, and runs their social media. Carol moderates a paid support group for Dr. Leslie Kernisan's website Better Health While Aging, created a long-term project for GrandPad.net called LiveGrand, and reviews articles for A Place for Mom. She's written hundreds of articles for Agingcare.com and HealthCentral.com, as well.
Because of this work, she's been interviewed on national radio shows, including NPR's Talk of the Nation; Senior Solutions, produced by Detroit Area Agency on Aging; and Wisconsin Public Radio. She's routinely interviewed by newspapers, magazines, and on major websites, including Reader's Digest (Digital), Next Avenue, Salon.com, The New York Times, The Wall Street Journal, The USA Today Network, Chicago-based Make It Better magazine, The Upside of Aging, Booming Encore, US News & World Report, and Market Watch.
Carol is a co-moderator on the Facebook sites US Against Alzheimer's and Caregivers Committed to Wellness, as well as a contributor to Caregivers Companion and Joining the Dots for Dementia.
Besides authoring "Minding Our Elders: Caregivers Share Their Personal Stories," Carol wrote 'Swimming upstream in a media library,' a contribution to "A Handbook for Media Librarians," edited by Katherine Schopflin, Hardcopy published by Facet, 2008 and online, 2018.
In addition to her own book, she's contributed to titles including "Dementia: Frank and Linda's story: New approaches, new understanding, new hope," (Lion-Monarch, March 2010); and was a content editor for "Finding Joy in Alzheimer's: New Hope for Caregivers," (2015), by Marie Marley, Ph.D., and Daniel C. Potts, MD, FAAN. She wrote a foreword for the second edition of "Wishes to Die For: Advance Care Directives that Grant Caregivers Lasting Peace," by Kevin J. Haselhorst, MD (2015), as well as for "Caregiving Both Ways," (2019) by Molly Wisniewski. She is also a contributor to an anthology edited by Marita Golden titled "Us Against Alzheimer's: Stories of Love, Family, and Faith," (2019).
Carol finds joy in supporting others as they struggle through their own challenges and relaxes by indulging her love of reading.
© 2023 · Carol Bradley Bursack, Author, Columnist, Blogger